Essential tips for first time runners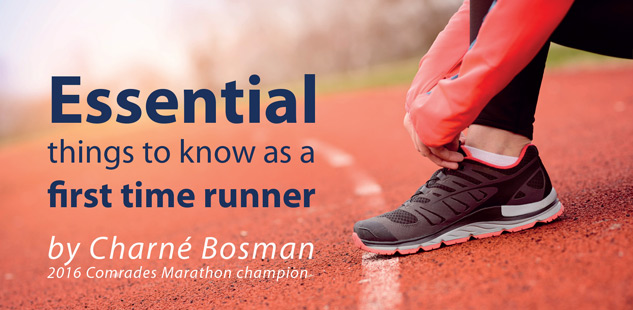 Running is one of the easiest ways to keep yourself firm and fit. It is also one of the affordable ways to exercise. However, it isn't as simple as just getting on the road. Luckily, 2006 Comrades Marathon champion, Charne Bosman has a few essential things for you to remember before you get started.
Here are the top tips:

Invest in a good pair of running shoes. Your feet are the point of contact between you and the road – the right cushioning will ensure that you remain injury free.

Join a running club. The motivation to run can subside at times, but having a team of other runners can really help in motivating one to hit the road on those down days.

Progress is a slow process – increase your running distance by 10% every week. And keep it going! By marginally increasing your running distance, you allow your body (especially the muscles) enough recovery and rebuild time between runs.

Dedicate 10 minutes stretching after each run. This is crucial – most post-run injuries occur as a result of the lack of adequate stretching.

Set realistic goals. To put it bluntly, as a beginner, you cannot realistically expect yourself be taking part in a full marathon within a few days even weeks of training. Pace yourself and set measurable goals.