Rent it like you own it, from R7 068* pm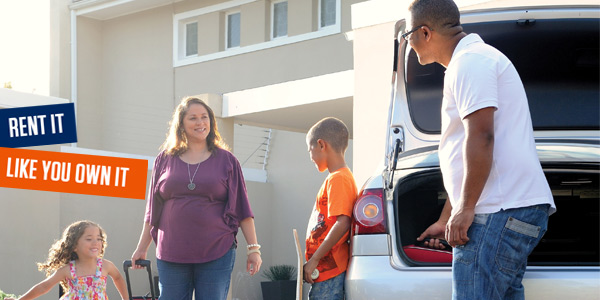 Monthly car hire
To keep you moving during these bumpy times, we are offering you a flexible monthly car rental solution. With deals starting from only R7 068* pm, which includes super waivers, maintenance costs, and a wide selection of rides to choose from, you can still remain mobile.

For car sharing groups, it becomes even cheaper when the offer is taken up by a group of people.
Plus, we do not perform any credit checks as financing is through your credit/cheque account, which means you will be on the road in no time.
No credit application
No insurance premiums
No Maintenance costs
Book this offer by using the panel on the right.
How it works
Booking this special - Make your booking at one of the qualifying branches listed below, making sure that your rental duration is longer than 31 days and shorter than 90 days. No payment will be taken at the time of booking.
Collection and payment - When collecting we will take an authorisation hold on your payment card for the cost of the first 30 days of your rental, plus an estimated cost of a tank of fuel and extras. Standard rental checkout procedures apply.
Monthly Renewal - Return to the branch every 30 days so that we can take a km reading and check the vehicle condition. We will then take payment for the next 30 days or the remainder of the rental, whichever is shorter.
What is the monthly authorisation hold?
Authorisation Amount Explained
We will take an authorisation hold on your credit card at the beginning of each monthly period. The monthly authorisation amount (quoted above) includes the cost of the rental, the estimated cost of a tank for fuel and an estimated amount for any extras (e.g. additional km's) that may be incurred. At the end of each monthly period the rental charges will be deducted from the authorisation hold and the remaining funds will be released. We will then take a new authorisation hold for the following month should the rental be continuing.
Here is how the authorisation hold works:
When collecting the car
Budget requests your bank to reserve a hold against the funds on your card.
Your bank will usually present this as a pending transaction that reduces the money you have available to spend. This might appear to be a debit on your statement but it is not.
We do not charge your card. No funds are actually taken from your account.
This hold will be the estimated cost of your rental (including a tank of fuel and extras).

When returning the car
Once your card is charged with the invoice amount, the hold will be released by your bank.
As this was a temporary hold and not charged, the return funds will not be shown as a transaction on your statement, instead your available balance will increase.
Depending on your bank, it can take up to 30 days before this is reflected on your account balance.
The time to release the hold is not within our control.
Please contact your bank for any authorisation hold queries.
Terms and Conditions
An authorisation hold for the cost of the first months rental and an estimated cost of a tank of fuel and extras will be taken on your payment card when collecting the vehicle.
If renting for longer than one month (30 days) the same authorisation hold will be taken at the beginning of each 30 day period.
The vehicle must be returned to the rental location every 30 days for vehicle condition checking, kilometer reading and payment for the next month's rental.
Minimum 31 day rental duration.
Maximum 90 day rental duration.
We do not require a permit to travel at time of pickup, however you will be required to be compliant with the necessary travel permits by the authorities.
Rates are valid within South Africa.
Rates are subject to change and availability.
Rate Includes
100km free per day
One free additional driver
Super Collision Damage waiver
Super Theft Loss waiver
VAT
Tourism Levy
Location Surcharge
Windscreen and Tyre Damage waiver
Rate Excludes
Fuel
One way fees
Delivery and collection fees
Personal Accident Insurance
Rental contract fee
Frequent flyer miles
Optional extra, e.g. Baby seats, GPS, etc.
This offer is available at the following branches:
Operating hours for all branches are 08h00 - 17h00 Monday to Friday, 08h00 - 12h00 Saturdays (excl. branches in the Eastern Cape), and closed on Sundays and Public Holidays.
Airport Industria
Amanzimtoti
Ballito
Bethlehem
Bloemfontein Airport
Bloemfontein City Centre
Cape Town City Centre
Centurion - Pretoria
Durban City Centre
East London Airport
East London City Centre
Empangeni
Grand Central
George Airport
George City Centre
Isando - Johannesburg
Jeffreys Bay
Kathu
Kimberley
King Williams Town
Krugersdorp
Ladysmith
Lanseria
Margate
Menlyn - Pretoria
Mmbatho City Centre
Mossel Bay
Nelspruit City Centre
Newcastle
Ormonde
Paarl
Pietermartizburg
Pinetown
Plettenburg Bay
Polokwane Airport
Port Alfred
Port Elizabeth Airport
Port Elizabeth City Centre
Potchefstroom
Pretoria City Centre
Richards Bay
Rustenburg
Secunda
Soweto
St Lucia
Stellenbosch
Sunninghill
Ulundi
Umhlanga
Upington
Vereeniging
Vryburg
Welkom
Witbank
Wynberg
Book here for this offer
Offer only available at branches specified below for a minimum 31 to maximum 90 day rental duration.